The H&F Archive
One of the two obligations to our mission is to preserving the heritage of the trolley line that served Washington and Frederick Counties in Maryland. To do this we make an ongoing effort to collect and maintain an archive of small artifacts, documents and photographs which are used in our exhibits and newsletters and are made available to researchers.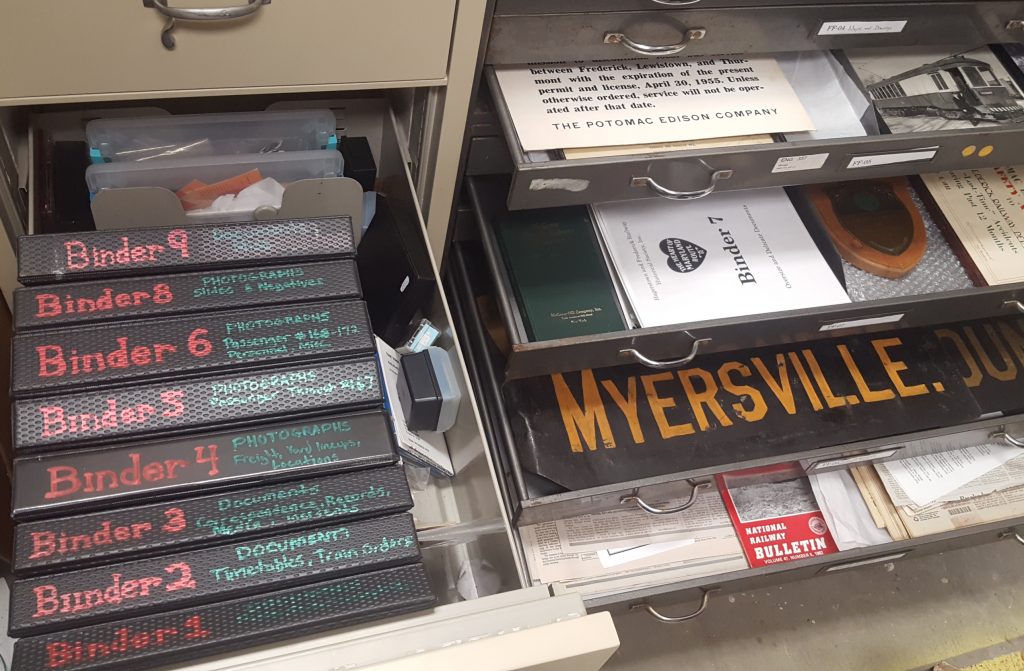 We strive to apply museum quality practices in the storage and handling of our artifacts. This includes only handling objects using cotton or disposable gloves, storage in archival quality clear plastic sleeves and holders when applicable, and the use of a fireproof rated cabinet for many of our rare and one-of-a-kind documents.
In 2017 we began the extensive process of cataloging our collection using a tri-numeral classification system similar to that found in small museums across the country. In July of 2020 the H&FRHS was awarded a Heritage Grant by the National Railway Historical Society to upgrade our archival technology so that we may better scan and track our documents and photographs to improve research accessibility and minimize handling.
---
Types of objects in our collection
Timetables
Employee number badges
Photographs of

Structures
Locations
Employees

Photo Negatives
Company memos, advertising and documents
Maps and Drawings
Tickets and Receipts
Station stamps
Shipping documents
Newspaper Articles
Memoirs and photo stories
Audio and Film
Bibliographical Library
Trolley Festival souvenirs
Small trolley parts
Destination signs
Subjects we collect include
Hagerstown & Frederick Rwy.
Frederick & Middletown Rwy
Frederick Inter-Urban Rwy
Frederick Railroad
Myersville & Catoctin Rwy
Hagerstown Rwy
Hagerstown & Boonsboro Rwy
Hagerstown Northern Rwy
Monocacy Valley Rwy
Washington, Frederick & Gettysburg Rwy
Chambersburg, Greencastle & Waynesboro Street Rwy.
Braddock Heights Amusement Park
Woodley Park/Electric Park/Watts Park amusement park in Funkstown
Blue Ridge Bus Company
Potomac Edison Company
Potomac Public Service Company
Myersville Trolley Festival

---
How You Can Help
There are many ways you can help our efforts to preserve H&F history. Use our Contact Form or write to us at P.O. Box 1314 Frederick, MD, 21702 if you would like to help!
ARTIFACT DONATION: If you have an object related to any of the subjects listed above, we are interested in providing it with a safe home.
FINANCIAL SUPPORT: A donation to the Society in any amount will help us to continue our outreach and operations, both of which help us to grow and preserve our archives. Larger donations and bequests can be earmarked for archival use to help store and acquire artifacts.
SUPPORT OUR ENDOWMENT FUND: We currently have the opportunity to set up a permanent endowment through the Community Foundation of Frederick County. To create the endowment we must raise a minimum of $25,000 by June 2021.
VOLUNTEERING: Our members are encouraged to also become volunteers. Archival volunteers help to scan and enter detailed information about objects in our collection. Volunteers may also research related subjects to contribute stories to the Society newsletter and future publications.
HELP US FIND A HOME: Our archive is currently hosted by Hobbytown USA in Frederick. The H&FRHS would like to find a dedicated home where we can expand our archives into a research center, hold exhibit open houses and gather for meetings. If you are or know someone with a property which may serve this purpose, or would like to learn how to help us acquire such a location, please reach out to us!
---