The Boonsboro Trolley Station Museum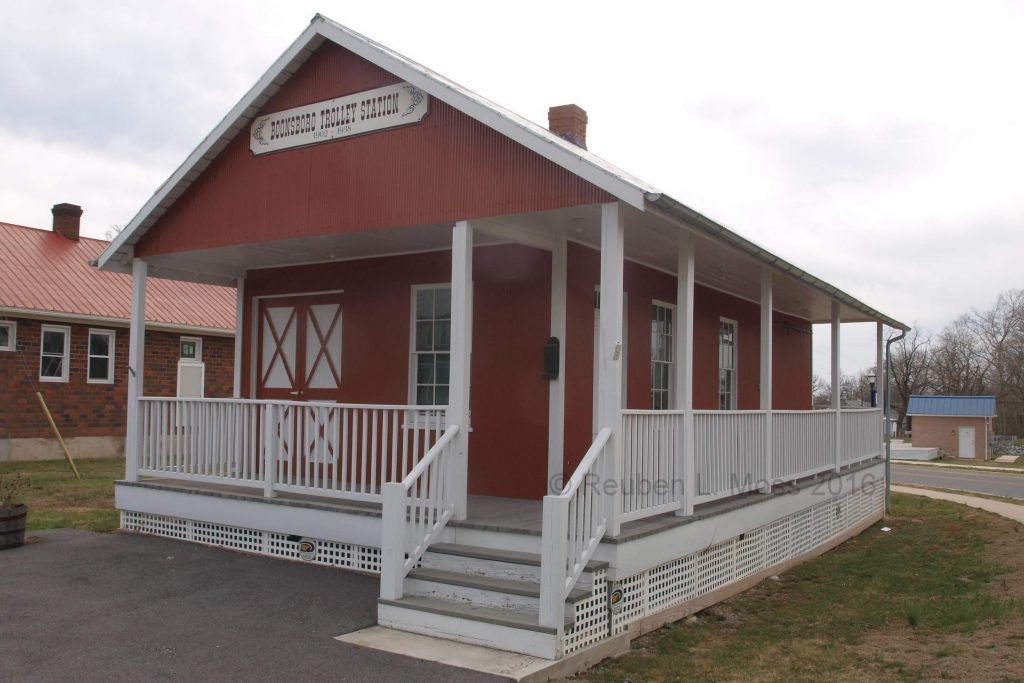 220 N. Main Street, Boonsboro, MD 21713
Exhibits are currently under renovation, opening date for this coming season is still TBD. Check here at a later date for the Museum's 2023 schedule of hours.

Contact HFRHS to request a special visit appointment
In partnership with the National Road Heritage Foundation our organization operates a museum inside of the the last surviving trolley station in Washington County, Maryland. New for 2023, the H&FRHS has drastically redeveloped the museum to provide a brand new visitor experience! Society volunteers host the museum on select Sundays from March through November.
Trolleys first came to Boonsboro in August of 1902 and provided passenger, freight, mail and parcel service to the community until October 1938. Remaining on this site for over 110 years, the station has been restored and was dedicated as a museum in 2009 and contains a series of exhibits pertaining to the community of Boonsboro, local businesses and the trolleys themselves. Accompanied by many photographs, maps and artifacts including tools and pieces of local trolleys the exhibits will give an insight into the history and impact of the railway across the region, the services it provided, and the legacy that continues to touch communities to this day.
National Road Museum
The National Road Heritage Foundation is installing Maryland's only museum dedicated to the Historic National Road which runs in front of the trolley station. The museum is slated to open by 2024 in the building directly beside the station and once completed the two museums will together teach very different yet intertwined parts of central Maryland's rich transportation history. Trolley service began in Frederick County due to the decline of the National Pike at the end of the 19th century and trolley service declined as the roads were drastically improved during the 1920s.
While in the Area
There is so much to do around Boonsboro why not consider making your visit a whole day experience!
The Boonesborough Museum of History one block to the east of the Trolley Station is open every Sunday May-December from 1-4 pm
The Washington County Rural Heritage Museum is only a 15 minute drive from the station and opens every 2nd Saturday & Sunday from 1-4pm
The Boonsboro Historical Society's Historic Bowman House one block to the west of the Trolley Station is open every 4th Sunday April-October with hearth cooking demonstrations.
Crystal Grottoes Caverns has been providing tours for over 100 years and can be found just on the outskirts of town.
Historic Downtown Boonsboro offers quality restaurants and several fine shops and boutiques including a historic hotel and gift shop owned by New York Times Best Selling Author Nora Roberts and Turn The Page Bookstore operated by her husband.
Nearby attractions include the first Washington Monument, Antietam National Battlefield, Gathland and Greenbrier State Parks, Appalachian Trail, and numerous historic sites, vinyards and other attractions
Interested in h
If you are interested in volunteering with the Boonsboro Trolley Station Museum, please consider a membership to either organization and let us know that you would like to be a Trolley Station Host.