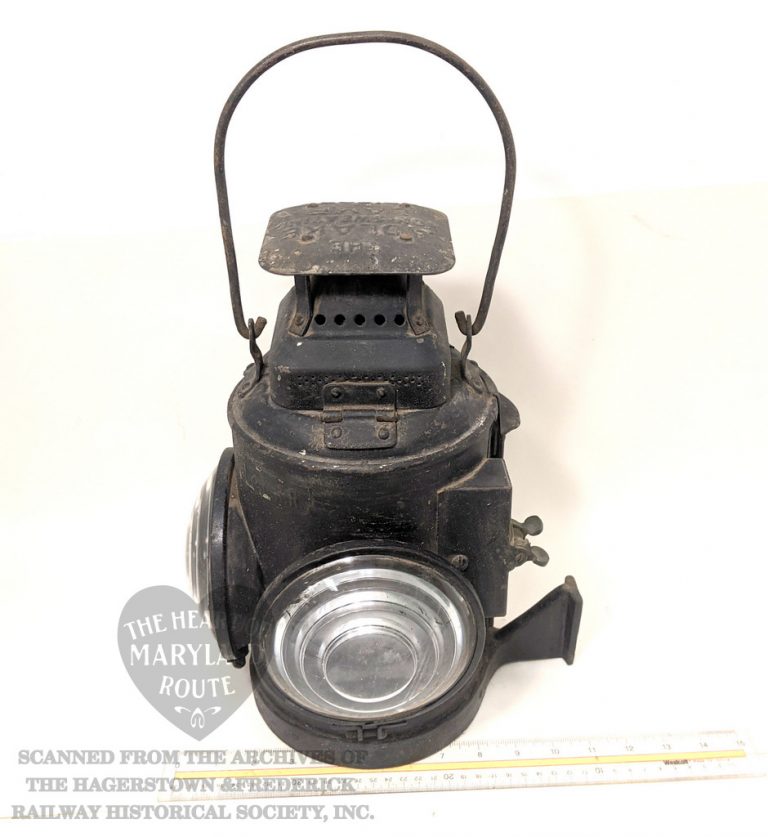 Object Type
Tool / Trolley Part
H&FRHS Catalog ID
21.02.01
Date or Period
c.1940s
Location
Frederick, Maryland
Credit Line
Robert Cope
Storage Location
Hobbytown USA Window Exhibit
Details
This lamp is of a type known as a marker lantern.  It is an example of one out of several designs used by the Hagerstown & Frederick Railway.
This particular lamp bears an identification plate for boxcab locomotive #3 which served its entire operating life in Frederick.
Marker lanterns were used on the corners of railcars and locomotives on most railroad systems to provide information about the train (direction of travel, front, back, type of service) to others when the weather or time of day would limit visibility of flags bearing these colored signals.
Many marker lanterns bear fixed color aspects, where the exterior facing glass lenses contain the desired colors.  In some cases a handle on the bottom of the lantern would allow a crew to turn the lamp in its fixture to change what aspect was facing forward or backward.
This style of marker lantern which was used frequently by the H&F Railway bears a mechanical filter system, wherein the exterior lenses are both clear and small levers beside each can be used to lower a desired colored filter between the exterior lens and the light source inside.  Both lenses have a blue filter while one bears a red second filter and the other bears a yellow filter.  It is unknown at this time whether the blue filter was indeed meant to show as blue, or whether the light source used would change that color to green as the color-coded lever seems to indicate.  Both green and blue were signal colors used by the H&F with differing meanings.