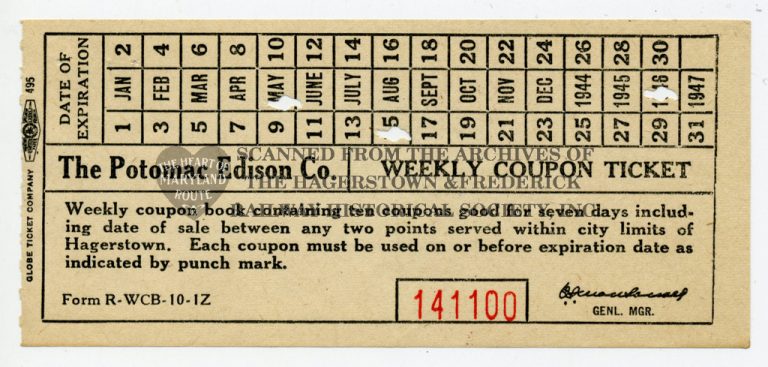 Object Type
Ticket / Pass
H&FRHS Catalog ID
00.16.01
Date or Period
05/08/1946
Company Form Type
R-WCB-10-1Z
Location
Hagerstown, MD
Dimensions
4" x 2"
Storage Location
Binder 1 (Tickets/Waybills)
Details
This is a single page from a weekly commuter's book.  These books contained 9 tickets with the cover serving as a 10th ticket allowing for 5 daily round trips within a 7 day period.  The station agent would punch the expiration date and one ticket would be presented to the motorman or conductor upon boarding.
This particular ticket was good for any of the in-city (Loop, W. Washington Street, Summit Avenue, Potomac Street) services within the City of Hagerstown.  It was purchased on May 8th, 1946 and expired on the 15th of that month.