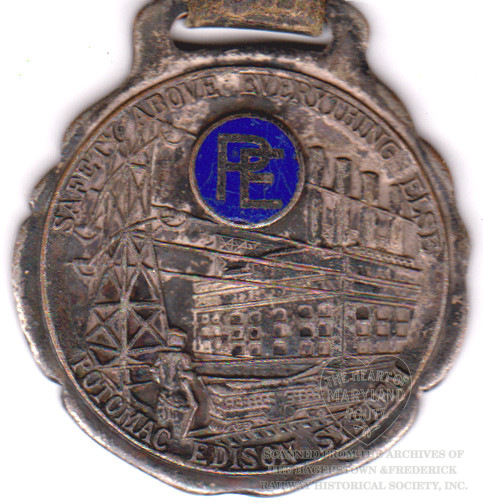 Object Type
Award / Badge
H&FRHS Catalog ID
00.25.01
Date or Period
c.1935
Credit Line
Jerry & Kathy (Fagan) Barrick
Earliest Known Owner
Lewis F. Fagan Jr.
Dimensions
1.5" diameter medallion, 5.75" tall with strap.
Storage Location
Fireproof Storage
Details
This medallion was most likely issued as a safety reminder for employees to wear with their uniforms or as a departmental recognition for safe practices.  It bears the embossed text "Safety Above Everything Else" along the top edge and "Potomac Edison Systems" along the bottom edge, framed around a generic embossed image of a power generation plant, high tension powerline mast and a Peter Witt style streetcar (which the company did not use) as well as the Potomac Edison logo.
The medallion is attached to a small adjustable leather strap and a plastic ring for affixing the strap.