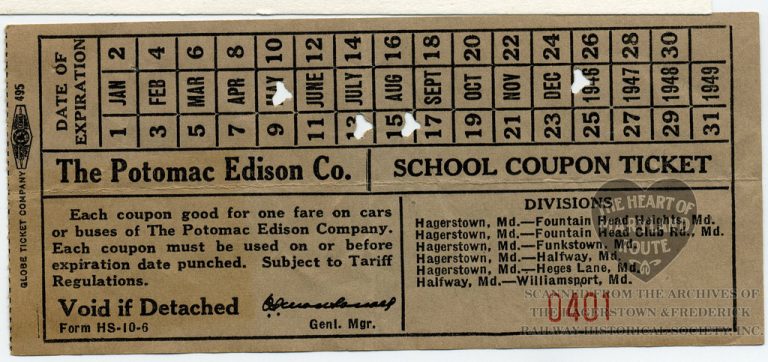 Object Type
Ticket / Pass
H&FRHS Catalog ID
00.08.01
Date or Period
May 1946
Company Form Type
HS-10-6
Location
Hagerstown, Maryland
Dimensions
2" x 5"
Storage Location
Binder 2 (Train Orders)
Details
This ticket is one page from a book of 10 allowing a student passage on trolleys between a school within the city and their home in either Funkstown to the east, Halfway or Williamsport to the west or the Fountainhead area just north of the city.
These books were sold to families at a discount and were valid on weekdays until the date punched, often the last day of school: in this case May 15, 1946.
It is likely that this book, like the commutation books of similar design, contained 9 pages which would be torn out by the motorman and then the passenger would use the cardstock cover page as the final ticket.