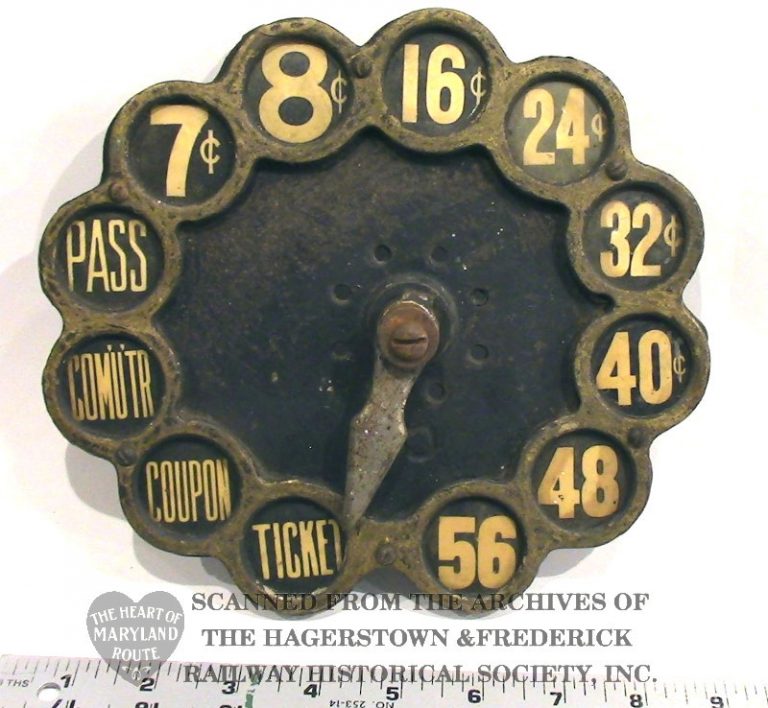 Object Type
Trolley Part
H&FRHS Catalog ID
22.22.08
Date or Period
1917
Credit Line
Betty Duke
Earliest Known Owner
Carroll James
Dimensions
8" x 8"
Storage Location
On Loan to Boonsboro Trolley Station Museum
Details
This dial was connected to a long pole system which ran the entire length of a trolley and indicated to the motorman or conductor what fare amount was selected on an Ohmer type fare register.  The trolley would have at least three of these in addition to a similar dial at the motorman controls in the vestibules on each end of the trolley.  The pole ran through the dial so as to rotate freely while the arrow was fixed and rotated with the movement of the metal pole.  A gear and chain similar to that of a bicycle chain connected the pole and therefor the arrow with the register machine itself.
This dial was acquired alongside the Ohmer register which came from an unidentified car and several items from H&F car #172.  It is possible it came from that car as the amounts match those used by the H&F.