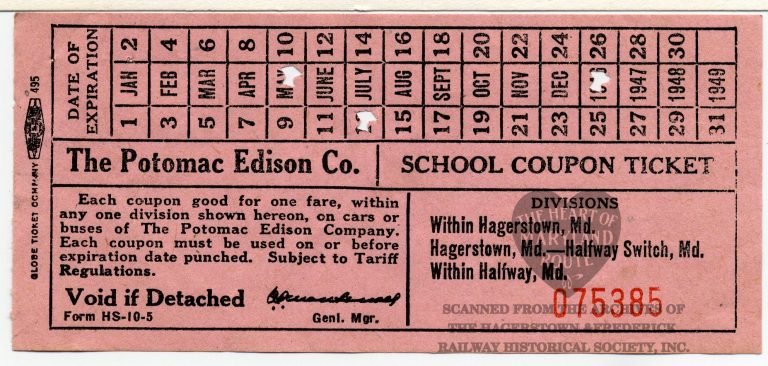 Object Type
Ticket / Pass
H&FRHS Catalog ID
00.07.01
Date or Period
1946-05-14
Company Form Type
Form HS-10-5
Location
Hagerstown, MD
Dimensions
2" x 4"
Storage Location
Binder 1 (Tickets/Waybills)
Details
This ticket printed on pink paper was provided as part of a booklet of identical tickets, the entire booklet was number 075385.  The booklet was sold at a discount to a families with schoolchildren living in Hagerstown or between Hagerstown and Halfway.
Before the advent of school bus service students would ride trolleys and later Potomac Edison to reach points closer to their school.  This was most useful for students living outside of the city who traveled to attend in-city high schools, however it was also used by students who would need to travel several city blocks to reach their school.
This particular ticket is punched to expire on May 13, 1946.  When looking at punched tickets notice that each motorman and conductor had a different shaped punch.
This ticket was printed by the Globe Ticket Company.