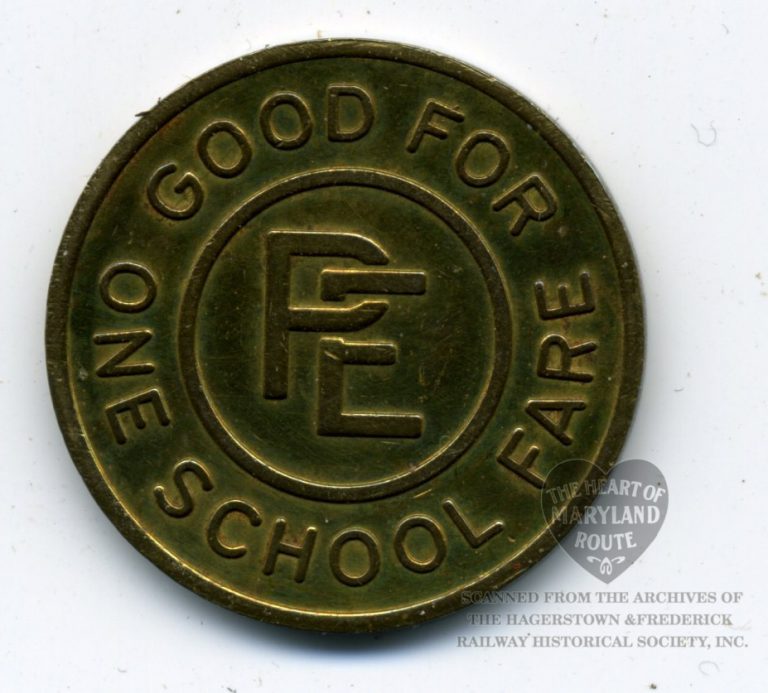 Object Type
Ticket / Pass / Other
H&FRHS Catalog ID
00.38.01, 02
Date or Period
c.1947
Location
Hagerstown, MD
Dimensions
Slightly smaller than a quarter
Storage Location
Binder 1 (Tickets/Waybills)
Details
Presented here are two different Potomac Edison tokens showing the difference in wear these coins can show when found.
School Fare tokens were purchased at a discount from the company and provided students passage from a point near their home to a point near their school on Potomac Edison owned bus services.  This particular token design is commonly attributed to late 1940s bus service in Hagerstown which replaced the trolleys.  Similar tokens may have been used in Frederick.
An exact date for the introduction of these fare tokens and it is possible that they may have seen some use on the last years of trolley service as some trolley and bus fare passes were valid on both services within certain conditions.
Trolley service used cash fares and paper tickets rather than tokens.