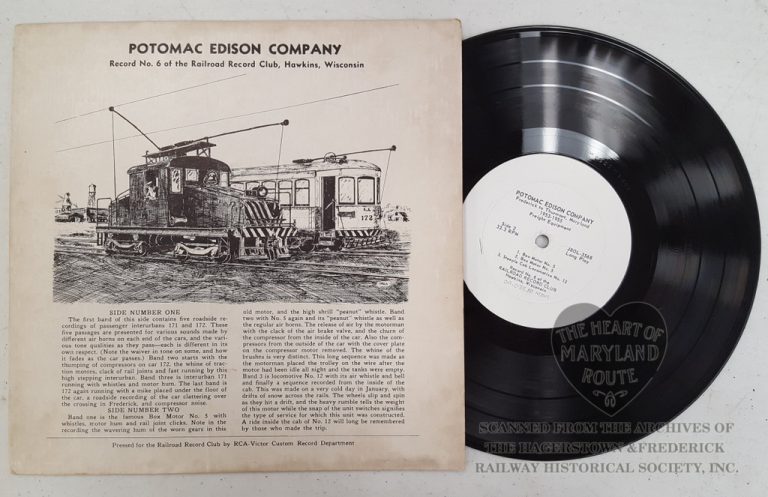 Object Type
Other
H&FRHS Catalog ID
22.05.02
Date or Period
1953
Location
Frederick, Bethel, Lewistown
Credit Line
Kenneth Gear
Earliest Known Owner
William Steventon
Storage Location
Fireproof Storage
Details
In 1953 and January 1954, William Steventon recorded audio of Potomac Edison operations between Frederick and Thurmont.  These include sounds of cars 171 and 172 as well as extensive recordings of freight motor #5 and steeplecab #12.
The Society has several copies of Mr. Steventon's official release of these recordings under his Railroad Record Club title where the record was identified as record #6.
This object is a CD provided to the society by Kenneth Gear who acquired the Steventon estate and recordings.  It includes a newly remastered version of the record taken from the original reel-to-reel tape as well as additional recordings made by Steventon which were never published.
Full Railroad Record Club published Audio:
Unedited audio of #5 track 1:
Unedited audio of #5 track 2:
Unedited audio of #12:
Unedited audio of #5:
William Steventon presenting whistle signals on #12: