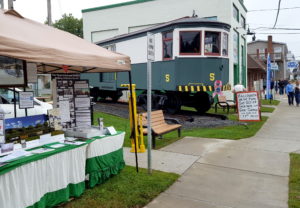 Preserving the past is as important as planning the future, and the electric railway system known as the Hagerstown and Frederick Railway was vital in the development of these communities. To help preserve this history, The H&F Railway Fund has been established with The Community Foundation of Frederick County and becomes one of more than 700 funds under management.
-
The fund was created by Alex Postpischil, one of the founders of The Hagerstown & Frederick Railway Historical Society (H&FRHS), located in Frederick, Maryland. Grants from the fund will assist H&FRHS with preserving the heritage and history of the electric railway system that served these communities in the first half of the 20th century. Potential  grant uses will include preservation efforts of artifacts and surviving trolleys as well as information signage and educational programs.  The 87½ mile network of passenger and freight trolley service was a vital link for farmers, merchants, and students.    Learn more at www.hfrhs.org.
-
To make a secure, online donation to The H&F Railway Fund, visit
www.FrederickCountyGives.org/HFRailway
. Checks made payable to The Community Foundation of Frederick County may be mailed to 312 East Church Street, Frederick, Maryland, 21701, with the name of the specific fund on the memo line. All donations are tax deductible to the fullest extent of the law. To learn more about how the Community Foundation impacts Frederick County, visit
www.FrederickCountyGives.org
.
-
-