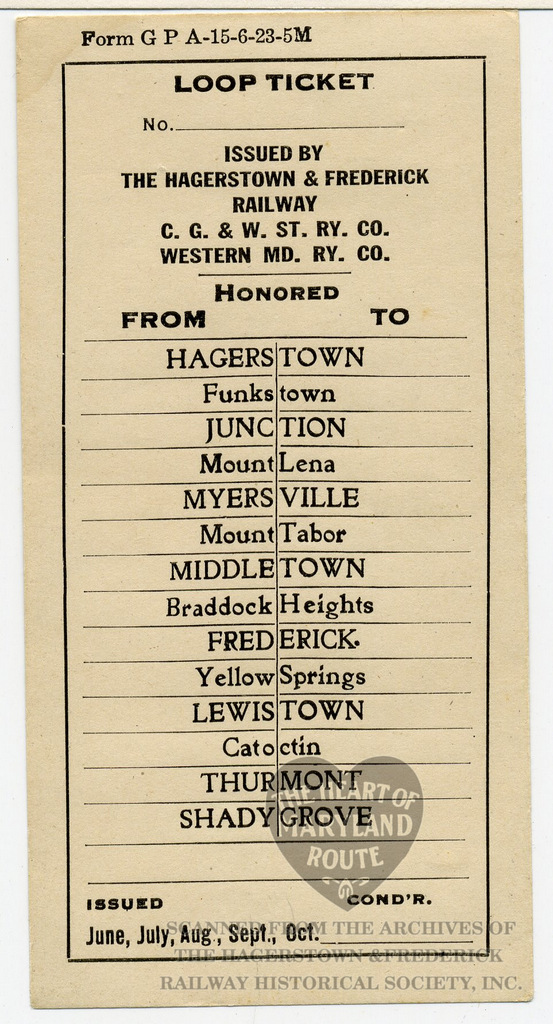 Object Type
Receipt / Ticket / Pass
H&FRHS Catalog ID
00.10.01
Date or Period
c.1923
Company Form Type
Form G P A-15-6-23-5M
Dimensions
2" x 4"
Storage Location
Binder 1 (Tickets/Waybills)
Details
This unused ticket would have been used as a proof of payment for the day trip known as the "Loop."  This trip was a joint venture between the H&F Railway, Chambersburg, Greencastle & Waynesboro Street Railway and Western Maryland Railway.  Passengers could board anywhere along the route and pay one time for a round trip along all three lines.  Passengers would ride the H&F to either Thurmont or Shady Grove on the H&F and then connect via a CG&W trolley and WM Ry passenger train with a stop at Pen Mar Park between the two railways.  The passengers could then return home completing the "Loop."
This should not be confused with the city "Loop" trolleys which operated regular commuter service in a figure 8 route within both Hagerstown and Frederick.