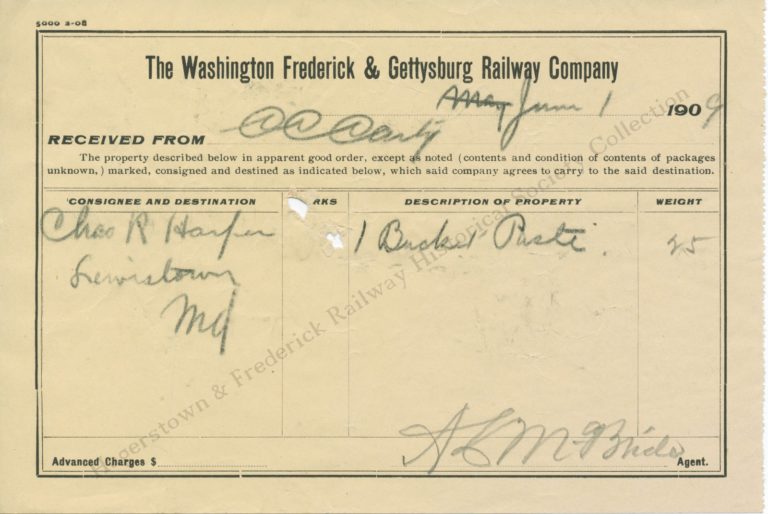 Object Type
Waybill
H&FRHS Catalog ID
18.07.02
Date or Period
June 1, 1909
Company Form Type
5000 2-08
Location
Frederick, Lewistown
Related Individuals
C.C. Carty, Charles R. Harper, A.G. McBride
Credit Line
Linda & Paul Houck
Dimensions
6" x 8.5"
Storage Location
Binder 1 (Tickets/Waybills)
Details
This waybill documents the shipment of 1 bucket of paste from C.C. Carty in Frederick to a Charles R. Harper of Lewistown by the Washington, Frederick & Gettysburg Railway.
A waybill is a document issued by a shipper, in this case the WF&G, documenting the property being shipped, the weight or quantity as well as any special instructions for the shipment and at times payment accepted.
The Washington, Frederick & Gettysburg Railway was a steam railway which operated between Thurmont and 4th Street in Frederick.  In late 1909 the company became part of the Frederick Railroad and in 1911 the route was moved in Frederick to 5th street and the entire 17 mile route was converted to electric trolley becoming the H&F Thurmont Division
C.C. Carty was a well respected furniture maker and undertaker on Patrick Street in Frederick.  The location of the business at this time was the building that is now home to the National Museum of Civil War Medicine.